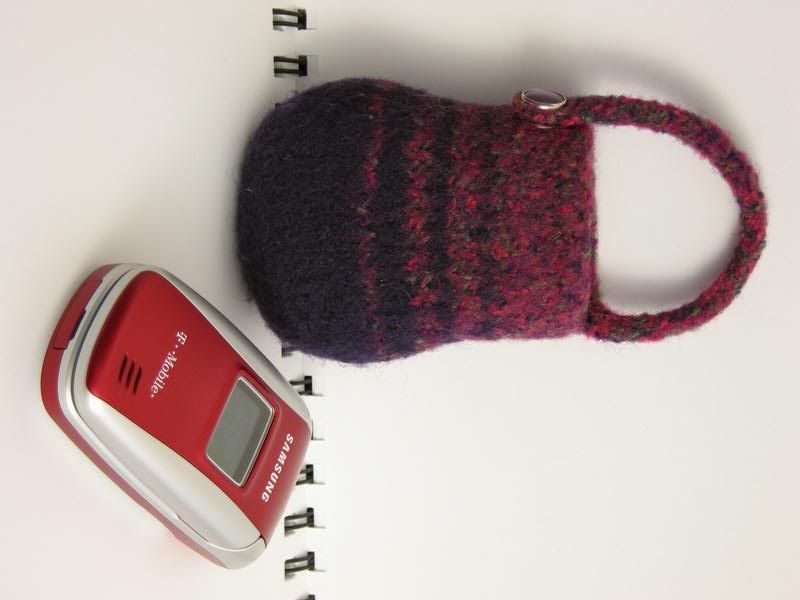 This was too fun to make. I had to get my mom a new phone since she lost the last one so this little cozy is to help her keep track of the new one. After I made hers, I decided it was too cute so I made one for myself as well. I made up the pattern but designed it after other cell phone holders I've seen around. The wool is felted Cascade that I had leftover from making my slippers.
The snap makes it easy to attach to whatever bag I'm currently using.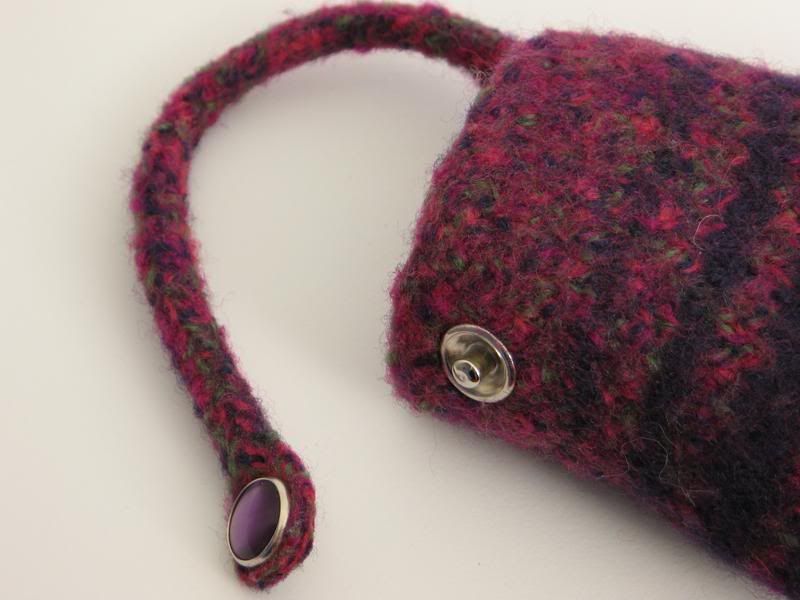 sOnirOni's phone cozy pattern:
Size US 8
I used
Cascade
but any good felting wool would work fine.
CA = color A
CB = color B
M1R and M1L
are both explained on Knittinghelp.com.
Turkish cast on
28sts (14 wraps) - either use DPNS, 2 circulars or the Magic Loop Method. I found the Magic Loop Method worked best for me in this case.
The numbers below represent each round. If all it says is K, knit the entire round.
CA
1: K 28sts
2: K
3: K
4: *M1R K14* 2 times
5: K
6: *M1R K1 M1L K14* 2 times
7: K
8: *M1R K3 M1L K14* 2 times
9-11: K
12: *M1R K5 M1L K14* 2 times
13: K
CB
14: K
CA
15: K
16: *K1 SSK K1 K2tog K15* 2 times
17: K
CB
18: *SSK K1 K2tog K14* 2 times
19: K
CA
20: *K3tog K14* 2 times
21: K
CB
22-25: K
CA
26: K
CB
27-35: K
Bind off after the last row using an icord bind off - this creates a sturdier edge. Simply knit the first 3 sts and slide them back to the left needle. Pull the working yarn tightly across the back of these working stitches and knit the first two stitches and then knit two stitches together. Move the three stitches back to the left needle and repeat K2 K2tog until there are only 3 stitches left. With these remaining 3 sts work approx. 8-12 inches of icord.
You can either tie the end of the icord around in a loop that will fit a button after felting, or you can use stockinette stitch at the end of the icord which will give a small flat surface perfect for a snap. Both methods work great but I've found the snap lies flatter with less chance of being caught on anything.
Next step is to felt the cozy. Either throw it in a pillow case in the washer on warm with a little soap, or just throw it in the sink with warm water and soap and scrub the cozy back and forth against itself. I preferred the hand felting for this project because it was small enough and this way I could watch the size carefully. After rinsing and wringing out any extra water by rolling up in a towel, I actually wrapped my phone in a plastic bag and stuck it in the cozy while it was drying - this gave it a perfect fit.
Enjoy!